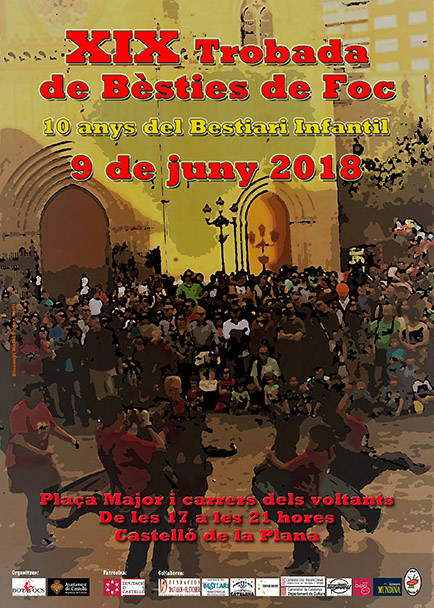 XIX Meeting of Fire Beasts
Several groups of giants and big heads of different cities will meet in the Major square of Castellón. The event will also involve associations of demons and fire beasts of Castellón and cities of Catalonia that also have a tradition of this type of events.
The "Gegants de Castelló"; "Cabuts d'Onda"; "Gegants de Borriana"; "Cucafera de Reus"; "Dracs de Reus"; "Dracs de la Sagrera"; "Dracs de PobleNou"; "Bestiari Infantil de Castelló"; "Dragoli i Bou de Vinaròs"; "Dracs de Sant Boi"; "Dracs de Gràcia" and "Dracs de Molins de Rei" are the associations that will participate in this meeting, from which you can find the schedule on the attached poster.
Schedule
17:00 – 18:15

Planted the Bestiary, Giants and Bigheads.

18:15 – 18:30

Infernal Tamborada

18:30 – 19:30

Parade through the streets Vera, Gasset, Puerta del Sol, Enmedio, Antonio Maura, Mayor, Arcipestre Balaguer, Mayor

.
19:30 – 20:15

10 years of the "Bestiàri Infantil" and Dances

.
20:15 – 21:00

Sparks everywhere and pyrotechnic auction

.