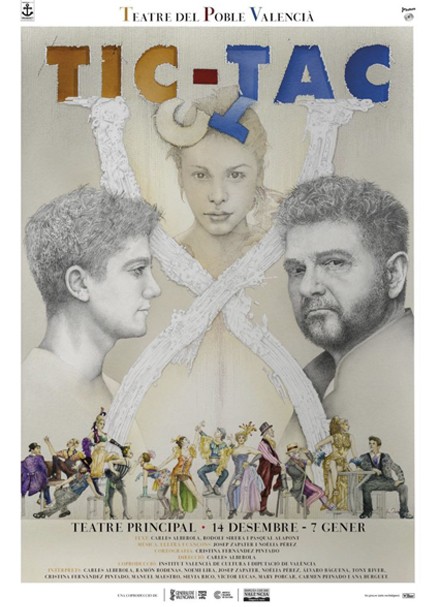 'Tic Tac' in the Main Theater
Musical around the need for fiction in our life. It is also a journey towards redemption between a father and a son. It is a musical comedy about how painting, music and theater (in short, art), speaks of the soul of people and how they can transform our lives and fill them with hope. It's time, the passage of time and the 15-minute story that can change everything.
PRODUCTION: Poble Valencià Theater/ Valencian Institute of culture / Deputation of València
TEXT: Carles Alberola / Rodolf Sirera / Pasqual Alapont
DIRECTIN: Carles Alberola
MUSIC, LYRICS AND SONGS: Josep Zapater / Noèlia Pérez
CHOREOGRAPHY: Cristina Fernández Pintado
INTERPRETERS: Carles Alberola / Ramón Rodenas / Noemí Lira / Josep Zapater / Noèlia Pérez / Álvaro Báguena/ Toni River / Cristina Fernández Pintado / Manuel Maestro / Silvia Rico / Víctor Lucas / Mary Porcar / Carmen Peinado / Ana Burguet.
GENRE: Musical comedy
DURATION: 110 min.
It will be performed next January 27 at 20:30, at the Main Theater of Castellón. Tickets are available with a price from 20 to 10 euros.