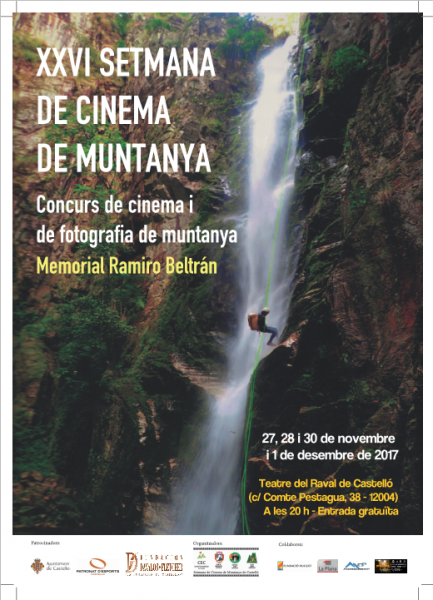 26th mountain cinema week in castellón
On the 27th, 28th, 30th of November and 1st of December the 26th edition of the mountain cinema week will take place at the Teatro del Raval in Castellón. This event consists of two competitions: a photography competition and a film competition, both will have as main theme the mountain and all its sporting aspects.
In these competitions will be able to participate all people who want to participate, whether amateur or professional at a particular level or as a sports association. The rules that both competitions will have are described below.
Film competition
rules
Each participant will be able to submit a maximum of 2 films in DVD format, CD or video format that can be projected through the commercial generic video players, and these will have a minimum duration of 30 minutes and a maximum of 70 minutes. If the films lack sufficient artistic or technical quality or they are advertising films, they will NOT BE ADMITTED, since they will not respond to the rules of the competition.
Fotography competition
rules
Each contestant will be able to submit a maximum of 3 photos, and they may be in color or black and white. These should be presented with a hard base of 30 x 40 cm with a minimum image size of 15 x 20 cm and a maximum size of 20 x 30 cm. Photo-montages, photographs retouched with some computer program or photocopies WILL NOT BE ADMITTED.
Schedule
Monday november 27th
PATAGÒNIA
Tuesday november 28th
TAGHIA
Thursday november 30th
PETREXEMA EN BTT
Friday december 1st
VINSON, LA MONTAÑA DE CRISTAL
Sponsors
Ajuntament de Castelló
Patronat D'Esports
Funación Davalos-Fletcher
Collaborators
Fundació Huguet
Toldos La Plana
Meridiano 0
Monpedal