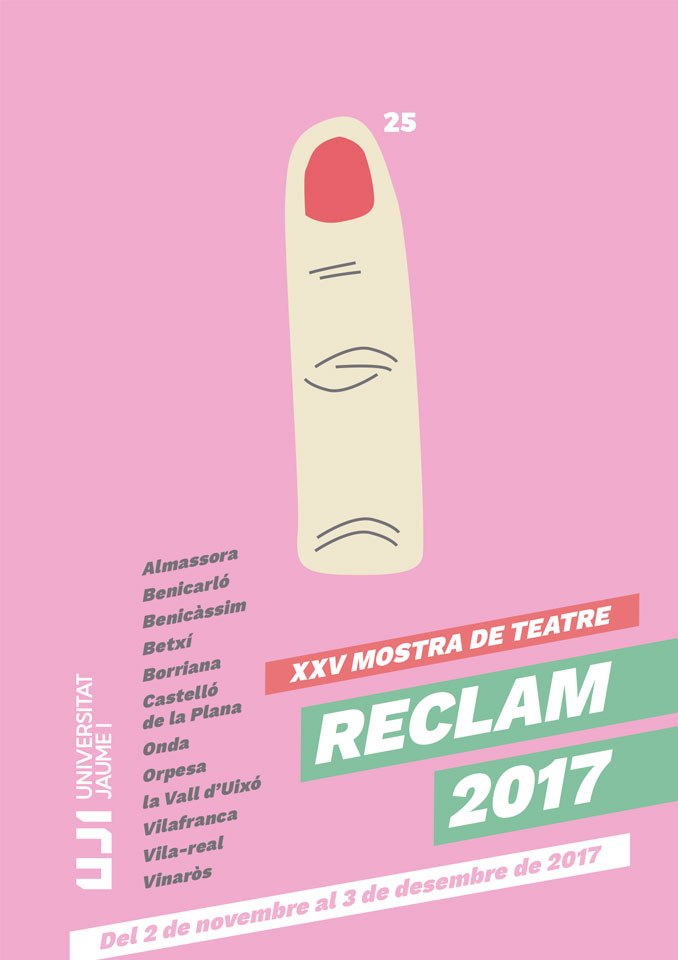 RECLAM 2017. XXV Theater Show
The theater show "Reclam" this year reaches its twenty-fifth edition with the objectives that have always characterized it, the variety and commitment to the scenic proposals that move the public of the Castellón regions to reflection. The exhibition will begin on November 2 and will continue until December 3 with a broad and careful program.
The performing arts will be the meeting space in which, during the month of November, with a consolidated cultural program in which the Universitat Jaume I participates, many town halls, the Provincial Council, the Caja Castelló Foundation and the Valencian Institute of Culture, technical staff from all participating institutions work to bring the best of stage creation to the public.
In the 2017 edition, the towns Almassora, Benicarló, Benicàssim, Betxí, Borriana, Castelló de la Plana, Onda, Orpesa, the Vall d'Uixó, Vilafranca, Vila-real, Vinaròs, the Diputación de Castelló and the Fundación Caja Castelló will participate, all as his shows. This year the population of Orpesa has been incorporated through its Youth Council.
During the exhibition more than 50 performances will be offered, proposals that include contents of current social issues that we have to live everyday, visions of the world from fiction that help us to understand reality.
In the organization we have worked to bring this twenty-fifth edition and the result is a program that accommodates a wide range of public. It is well known that the Reclam is a benchmark of quality beyond our regions, a cultural event that is cited annually with the public as a way to be at the end of the street of the evolution of the current performing arts.
In short, some shows exhibitions designed from the diversity and avoiding the vision of understanding culture as a market product and consumption that tends to the chromatic unity of thought.
NOVEMBER SCHEDULE
Thursday 2.

Theater "Oh Vino" (previous) 20:00H Paranimf

Friday 3.

Theater "Resaca" (inaguration) 20:00H Paranimf
Theater "La mejor cancion del mundo…" 22:30H Vinaroz

Saturday 4.

Theater "La onironauta" 20:30H Vila-Real
Theater "En el jardin" 20:30H Benicarlo
Theater "In memoriam, la quinta del biberó" 20:30H Castellón de la Plana

Sunday 5.

Theater "Les aventures de T.Sawyer" 12:00H Vila-Real
Music "Records de viatge" 19:30H Vila-Real

Tuesday 7.

Theater "A voz en cuello" 20:00H Castellón de la Plana

Webnesday 8.

Dance "Naufragio universal" 19:00H Castellón de la Plana

Thursday 9.

Theater "Palabras de Miguel" 19:00H La Vall de Uixo
Dance "Estudio 3: miradas" 18:30H y 20:00h Castllon de la Plana

Friday 10.

Music "The Primitals" 20:00H Paranimf
Theater. Spaña 22.30 h. ALMAZORA

Saturday. 11.

Music. La Trocamba Matanusca 18 h ALMASSORA
Theater. No som ningú 19 h. ONDA
Theater. Palabras de Miguel 19 h. VILAFRANCA
Theater. Eroski Paraíso 20.30 h. VILA-REAL

Sunday. 12.

Theater. Screen Man 18.30 h. VILAFRANCA
Theater. Tanatorium, la sola muerte espera 19 h. LA VALL DE UIXÓ
Theater. Palabras de Miguel 17 h. ORPESA

Tuesday. 14.

Theater. El fandango de Marx 20 h. CASTELLÓN DE LA PLANA

Thursday. 16.

Theater. Palabras de Miguel 10 h. ALMAZORA

Friday. 17.

Theater. El lunar de Lady Chatterley 20 h. PARANIMF
Theater. Xavi Castillo News! 22.30 h. ONDA

Saturday. 18.

Circus. La banda del otro 18 h. ALMAZORA
Theater. Palabras de Miguel 19 h. ONDA
Theater. Un tret al cap 20.30 h. CASTELLÓN DE LA PLANA

Sunday. 19.

Theater. La cine-maleta ambulante 18 h. BORRIANA
Theater. Palabras de Miguel 18.30 h. BETXÍ
Theater. La cantant calba al McDonald's 20 h. CASTELLÓN DE LA PLANA

Tuesday. 21.

Theater. De algún tiempo a esta parte 20 h. CASTELLÓ DE LA PLANA

Friday. 24.

Dance. Dancing with frogs 20 h. PARANIMF
Teatre. Fairfly 22.30 h. LA VALL DE UIXÓ

Saturday. 25.

Music. Presentación Benicassim.pop Vol.4 Ellas 12 h. BENICASSIM
Theater. Opus 1 – Blancs 17 i 18.30 h. BENICASSIM
Teatre. Distancia siete minutos 19 h. BETXÍ
Music. Los hijos de la montaña. 20 h. PARANIMF
Theater. Les solidàries 20.30 h. VILA-REAL

Sunday. 26.

Theater. Hotot 17 h. ORPESA
Theater. Tocatico Tocatà (Carles Santos per a nadons!) 19 h. LA VALL DE UIXÓ

Tuesday. 28.

Theater. El acto más hermoso del mundo 19.30 h. CASTELLÓN DE LA PLANA
Theater. Palabras de Miguel 22.30 h. VINAROZ

Thursday. 30.

Theater. Palabras de Miguel 10 h. BENICASSIM
Theater. Palabras de Miguel 21 h. BENICARLÓ
DECEMBER SCHEDULE
Friday. 1.

Theater. Iván y los perros 20 h. PARANIMF

Saturday. 2.

Theater. Oskara 20.30 h. CASTELLÓ DE LA PLANA
Theater. Sofía 20.30 h. VILA-REAL

Sunday. 3.

Circus. Rhümia (closing) 19 h. BENICÀSSIM