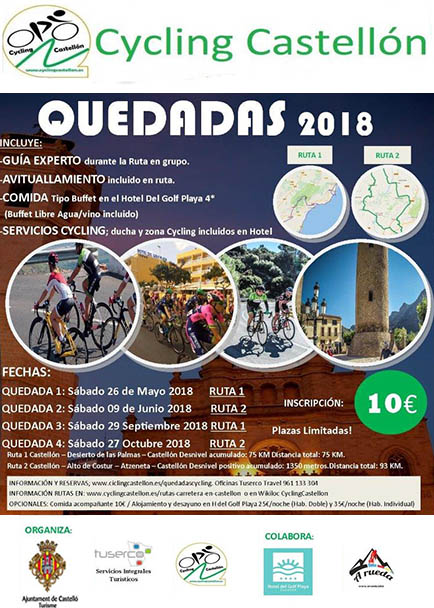 Meetings Cycling Castellón 2018
From May to October, the town hall of Castellón, together with Tuserco and Cycling Castellón, organizes several bicycle trips, with two routes that will take place over four Saturdays.
The scheduled dates are Saturday May 26, Saturday June 9, Saturday September 29 and Saturday October 27. The meeting includes a specialized guide for the route, provisioning on route and lunch at the Hotel del Golf Playa del Grao in Castellón. The registration fee is 10 euros.
Route 1 is Castellón-Desierto de las Palmas-Castellón, with a route of 75 km, while Route 2 is Castellón-Alto de Costur-Atzaneta-Castellón, with a route of 93 km.
To register for any of the meet-ups, visit the website Cyclingcastellon.es/quedadascycling. In addition, you can choose to stay at the Hotel del Golf Playa Castellón, both individually and in a double room.