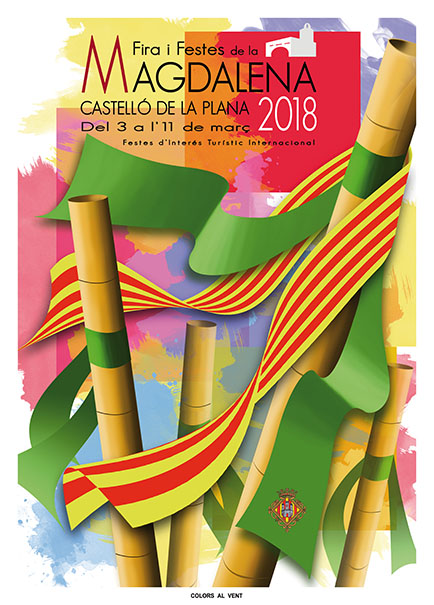 Program of the festivities of the Magdalena 2018
The Governing Council of the Festivities Board has approved the program for the Magdalena 2018. The festivities, which will be held from March 3 to 11, will have more than 250 events for all types of public. Among these acts will not be missing the most traditional, such as the Pregó, the Romeria de les Canyes, the Parade of Gaiates and l'Encesa de Gaiates, the Offering to the Mare de Déu del Lledó or the Magdalena Vítol, which as every year will put the a gold pin to the founding festivities of the city of Castellón.
One of the main novelties that is incorporated into the program of the Magdalena 2018 is the I Magdalena Romantic Festival, which will be held on March 9 in the Major Square with the performances of Murcia Parrandboleros and Jacaranda. This musical offer joins the concerts of renowned artists such as David Otero, ex-member of El Canto del Loco; David Bustamante, Zoo or Root, which will fill the 9-day festival with rhythm.
The pyrotechnics will not miss your appointment with the Magdalena. From the 5th to the 11th of March, the XXIV Contest of Mascletaes Ciudad de Castellón will be held while the VIII International Festival of Pyrotechnics of the City of Castellón, will take place from 7th to 10th March at the Camí de Almalafa campus. On Saturday, the 10th, a mixed mascletà will be fired in the fishing port of Castelló. There will be no shortage of the popular Nit Màgica, by Xarxa Teatre, nor the traditional Enfarolà del Campanar del Fadrí.
The FAMM! (Festival of Animation and Music of Magdalena) will set the streets of Castellón with the best international music with more than 30 bands, groups and companies, among which Liviana & Banovcanka Chobi Orchestra, from Slovakia; Siroki, from Bosnia-Herzegovina; in addition to the military band Fanfarre of the Police Cantonale Baudoise, of Lausanne (Switzerland); or the bagpipes of the Scottish Stow Borders Pipe Band and the animation of Maracaibo Teatro and Todozancos, and many others, in the parade of the FAMM !. In addition, the Moreno Brothers, the Barlou, Contaminando Sonrisas or José Ferreas & Isidro Silveira will start applauding at Huerto Sogueros with a new edition of Magdalena Circus. The Tombacarrers or the Coso Multicolor will not miss their annual appointment with the Magdalena.
CONSULT THE PROGRAM OF ACTS OF THE FESTIVITIES OF MAGDALENA 2018