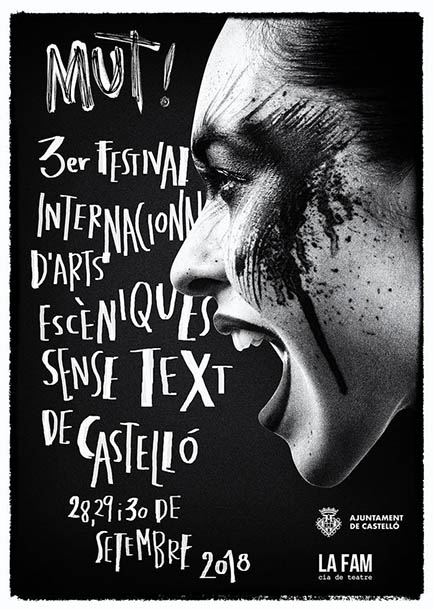 MUT! Festival
The third edition of the MUT! (International Festival of Performing Arts without text) will arrive in Castellón on September 28, 29 and 30 with a great cultural offer reinforced. This third edition of the MUT! It has more shows and activities.
In the MUT! Festival will involve 13 companies arriving from France, Belgium, England, Italy and Denmark, as well as several Spanish groups of recognized prestige. In total there will be 23 shows that can be enjoyed during the three days of the MUT!
The MUT! Festival will take place in various stages of the city, such as the Plaza Mayor, Passadis de les Arts, Huerto Sogueros square and pedestrian streets, just as you can find in the festival program, on the  festivalmut.com website and below.
All the shows of the MUT! FESTIVAL are free and can be enjoyed by the whole family.
SCHEDULE OF MUT! FESTIVAL
FRIDAY SEPTEMBER 28
12:00 DEAMBULANTES.

Company Productions Imperdibles. In the city center

12:45 DEAMBULANTES.

Company Productions Imperdibles. In the city center

18:00 DEAMBULANTES.

Company Productions Imperdibles. In the city center

18:45 DEAMBULANTES.

Company Productions Imperdibles. In the city center

19:30 DEAMBULANTES.

Company Productions Imperdibles. In the city center

20:15 DEAMBULANTES.

Company Productions Imperdibles. In the city center

22:30 SODADE. Company Cirque Rouages. In Main Square
SATURDAY SEPTEMBER 29
12:00 THE TRAP. Company Nakupelle. Passadís dels Arts
12:30 OPERATIVI. Company Eccentrici Dadaró. Passadís dels Arts
17:30 CAPOCOMICO. Marco Caroeli. Huertos Sogueros Square
18:00 THE TRAP. Company Nakupelle. Passadís dels Arts
18:30 LES ZÉLES D'OBÚS. Cia Benoit Charpe. Huertos Sogueros Square
19:15 L'AIMANT. Compagnie Lézards Bleus. Main Square
20:00 L'ENTERRAMENT DE MAMAN. Cie Cacahuète
22:15 LES ZÉLES D'OBÚS. Cia Benoit Charpe. Huertos Sogueros Square
22:45 SOL BEMOL. Company D'Irque & Fien
SUNDAY SEPTEMBER 30
12:00 PUPPET SHOW. Alex Barti. Huertos Sogueros Square
12:30 CAPOCOMICO. Marco Caroeli. Huertos Sogueros Square
13:00 BON APPETIT!. Company Nakupelle. Huertos Sogueros Square
18:00 PUPPET SHOW. Alex Barti. Passadís dels Arts
18:30 BON APPETIT!. Company Nakupelle. Passadís dels Arts
19:15 DÉMODÉS. Company La Tal. Passadís de les Arts
20:30 TAUROMÀQUINA. Company Animal Religion. Ribalta Park