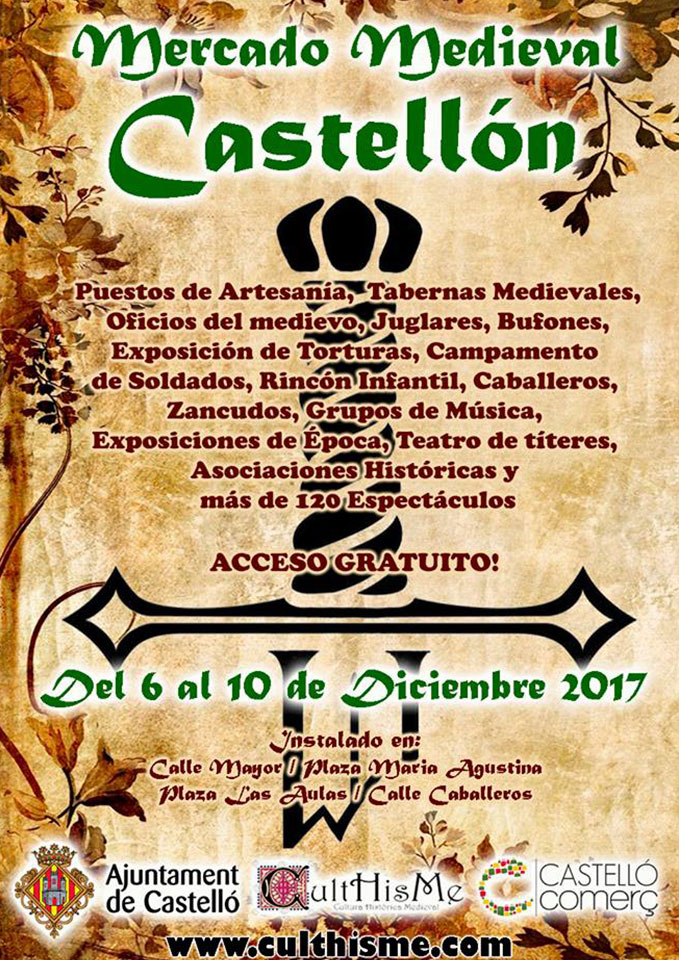 Medieval market of Castellón
From December 6 to December 10 2017 the MEDIEVAL MARKET OF CASTELLÓN will be celebrated
The event will be located in the heart of the city (Calle Mayor, Calle Caballeros, Plaza Las Aulas and Plaza María Agustina) and will be made up of artisan stalls and demonstrations of jobs from the Middle Ages, gastronomic area with medieval taverns, artisan pizzas in an oven firewood, tea shop and Arab restaurant, sweets and cakes from Aragon, traditional beer, cultural leisure exhibitions such as tortures, armory, stonemason, cabinetmaker and endless activities.
More than 120 FREE shows make up the program of activities of the event among which include: traveling shows with live musicians, minstrels, troubadours, buffoons … Medieval circus performances with visuals at high altitudes and comedy and many others, participation of Recreation Associations Historical with hundreds of reenactors, puppet theater, children's corner with activities and competitions for the little ones, soldiers' camp with combat exhibitions, reading of vintage parchments, appointment of ladies and gentlemen of the court and a lot of surprises!
COME AND REVIVE YOUR STORY! WE WAIT FOR YOU IN CASTELLÓN!