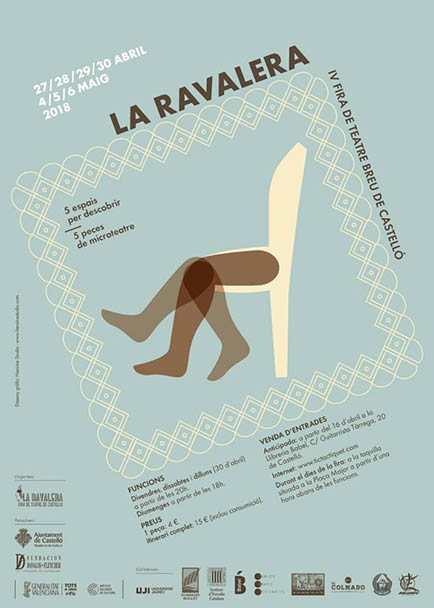 The Ravalera Short Theater Fair
"La Ravalera: fira de teatre breu" is a cultural project that focuses on small format theater, also known as microteatro, in unconventional spaces. With this objective, he wants to support the emerging creators of Castellón and towns in the province and aims to bring the theater to the general public, offering pieces of a maximum duration of fifteen minutes that can be seen in non-theatrical spaces of Castellón.
In spring an itinerary is offered where you can see five pieces of microtheatre in five different spaces in the center of Castellón.
The spaces chosen this year are the Barbería Centelles (Plaça de Tetuan, 30); Chezlalá Art Studio (Calle Mealla, 9); the Board Room of the Town Hall of Castellón (Mayor square); the Liberia Solidaria Aida (Calle Maestro Chapí, 18) and the house of Pepe el Poero (Amunt street, 138).
The dates in which the works of La Ravalera will be carried out are:
April: 27, 28 29 and 30
May: 4, 5 and 6
All dates are Friday, Saturday and Monday and the performances will take place from 8:00 p.m., except Sundays, which will be from 6:00 p.m.
Price: 15 euros, with consumption included.
SALE
From April 16 at the Babel Bookshop (C / Guitarrista Tàrrega, 20) and at www.tictactiquet.com

During the days of function, ticket sales at the box office located in the Plaça Major from one hour before the start of the function.