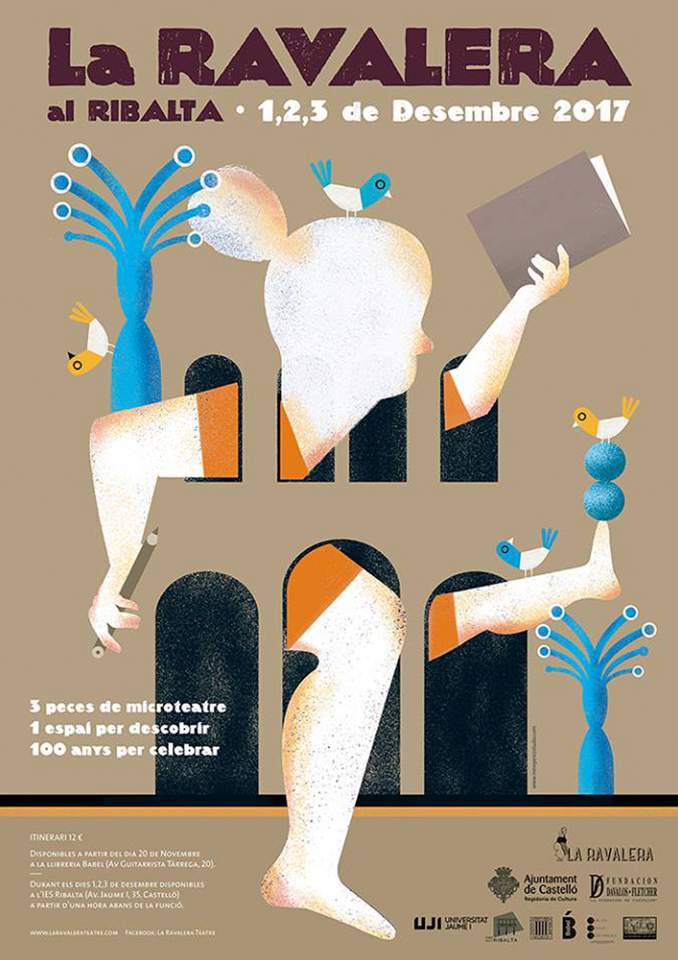 La Ravalera del Ribalta 2017
The Brief Theater Fair in Castellón is a theatrical event organized by "La Ravalera", a theater events producer specializing in theater in unconventional spaces. Throughout the three days of the fair you can see 4 pieces of micro theater in different corners of Castellón where theater is not used to doing.
These four pieces have a duration of about 15 minutes each, so that in a single day you can see all the proposals.
For the autumn edition, on the occasion of the celebration of the Centennial of the IES Ribalta and as they did last year with "La Ravalera, Temps de Guaret", we propose a trip for a single building where you can see three pieces of micro theater to know all the stories that can happen inside and finish all together with a concert, a party at the end of the course that will celebrate this special promotion, the 1917/2017 promotion.
Taking advantage of the centennial celebration of the IES Ribalta building, we want to delve into its walls and explain stories that have happened inside.
This building is one of the most emblematic buildings of Castellón and many of us keep intense memories of the time lived here and it is always a good time to create memories for those who have never entered.
This Ravalera wants to be a tribute to the institute, to the teaching, the teachers and all its history (and history) that is hidden is its classes and corridors.
Welcome a new autumn experience; hundreds of years … a lifetime!
BROKEN | Teatro de Cajón
HOW TO LEARN TO JOIN METALS | La familia política
MORGAU METHODE | La Ravalera
FINAL COURSE PARTY | Guillem Roma
Hours of functions:
Friday and Satruday: 19:00 to 21:00 H
Sunday: 18:00 to 20:00 H
Limited capacity. Entry will not be allowed once the activity has started. Punctuality is requested.
Itinerary: 12 €
Available from November 20 to the Babel Bookstore
(C/ Guitarrista Tarrega, 20)
During the days 1, 2, 3 December available to the IES Ribalta (Av Jaume I, 35) from one hour before the function.