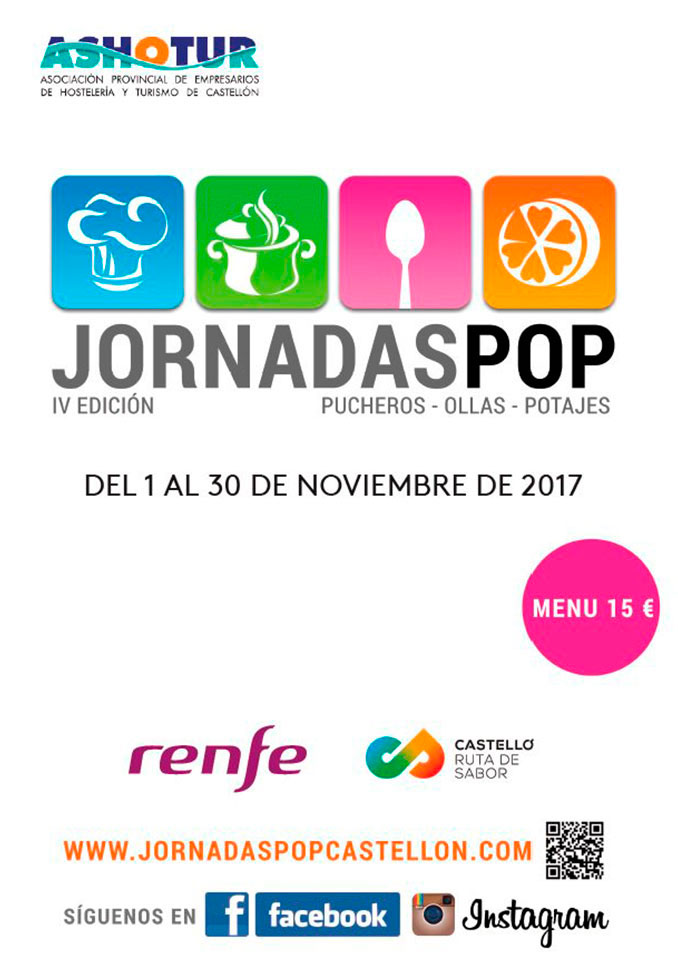 IV Edition of the "Jornadas Pop de Castellón"
"Jornadas POP por Castellón" is a gastronomic event based on the creation of a gastronomic route in the city of Castellón constituted by the restaurants of the capital of La Plana that wish to participate in this initiative by providing a specially prepared menu for the event.

The objective of the project is to promote typical dishes of Castellón and its province elaborated as stews, pots and pouches, typical dishes of the autumn-winter season, many of them forgotten and not demanded by the general public, promote the culture of the spoon kitchen in Castellón, and boost consumption in the catering establishments using the menus and their popular prices as a factor of attraction and promotion of restaurants in Castellón.


We leave you the list of restaurants that participate in the Castellón Pop Days 2017

Meson Ibérico El Lipizano
Fadrell square, 3
964 26 02 46
Schedule: Monday to Sunday from 13:00 to 16:00
-Olla de la Plana.
-Iberic Cheek with red wine reduction.
-Chocolate crepes with orange coulis.

Restaurante Cafeteria Pancho's
Maria Rosa Mola Street, 19
964 23 24 48
Schedule: Monday to Sunday from 13:30 to 15:30
-Olla de la Plana.
-Firefish cod gratinated with aioli and bakery potatoes.
-Pudding of horchata and orange bathed with natural orange syrup.

Ribalta Restaurant, Eurohotel ****
Pintor Oliet street, 9
964 34 25 59
Schedule: Monday to Friday from 13:30 to 15:30 (With reservation) Free Parking
-Beat Ribalta.
-Bala gratin with vegetables from our garden.
-Orange cake and caramel.

La Casita de Gredos Restaurant
Gracia Street, 26
964 22 09 33
Schedule: Monday to Saturday at noon.
-Our croquettes of boletus edulis jamon and kataifi, carpaccio of pork loin with parmesan and raff, salad of crab and mango.
-Baked with baby squid and shrimp.
-Strudel of milk cream and chocolate fundue, orange.

Rustico Restautant
Casalduch Avenue 28
964 26 96 03
Schedule: Monday to Friday from 13:30 to 16.00
-Beans with partridge
-Poultry cannelloni
-Mandarin ice cream

Antoxo Restaurant
Almenara Street, 5
964 25 29 24
Schedule: Half day only on Friday
-Pote Gallego
-Roasted lamb to the tartera
-Orange Pudding

Rosangel's Restaurant
Hungria Street 22, Pol. Pullman, Transport City
964 21 42 79
Schedule: Monday to Saturday from 13:30 to 15:30
-Pot of "cigrons and naps"
-Chicken, pepper and onion with tomato.
-Orange flan.

Mesón Navarro II Restaurant
Amadeo I Street, 8
964 25 09 66
Schedule: From 13:30 to 15:30. Monday closed
-Sailor Potage
-Grilled lamb chops with garnish.
-Orange Curd.

Lo de Pepe Restaurant
Escultor Viciano Street, 13
964 72 37 87
Schedule: Monday to Saturday From 13:30 to 15:30
-Pot rice marinade of prawns
-Rabbit in soft pickle.
-Pudding of orange.

Candela Restaurant
Alloza Street, 185
964 25 43 77
Schedule: Monday to Saturday From 13:30 to 15:30
-Chickpea stew with octopus.
-Lobster canelon with bechamel
-Bavaroise of oranges from the earth with crispy speculoos and hazelnut ice cream.