The Pinar beach starts at the northern limit of the Castellón's Port and its first section goes all the way to the crossroads at El Camino de la Plana. Ample roads and parking spots make this stretch of Castellón's coast extremely accessible. The zone has undergone a long process of restructuring that respects the character of an extensive beach, with large areas at the disposal of the citizens and giving priority to the beach-goers rather than to cars. Likewise, there are more green spaces for beach-goers. And now that its construction finished, the city can offer its neighbors and visitors the new Parque Litoral (Coastal Park), which has improved the entire Playa del Pinar area. In the summer, the beach is equipped with showers and footwash, sports areas (goals, volleyball nets), recreational zones for the children, and lifeguard services.
This beach gets its name from the nearby pine forest which a good part of has been preserved and is known as Parque del Pinar. This wonderful space is divided into two clearly different areas: an open which is open to the public and utilized as a recreational area and even hosts renowned events. The second area includes a 9-hole municipal golf course, managed by the Club de Golf Costa Azahar, which offers a social club, tennis courts, and other facilities. It is an ideal place to combine a game of golf with a day at the beach.
The Planetarium is one of the most interesting features of the Playa del Pinar. It located just metres from the sand, practically in the swimming area of the beach. Its unmistakable white dome is a point of reference visible from the almost anywhere on the beach.
Length: 1.800 meters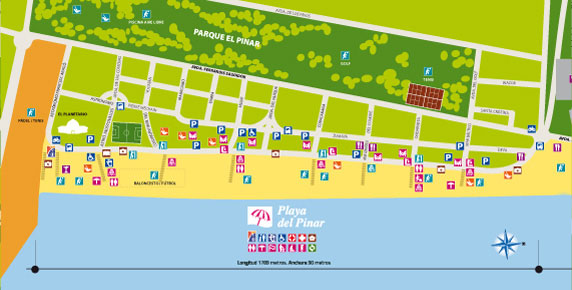 Other beaches of Castellon