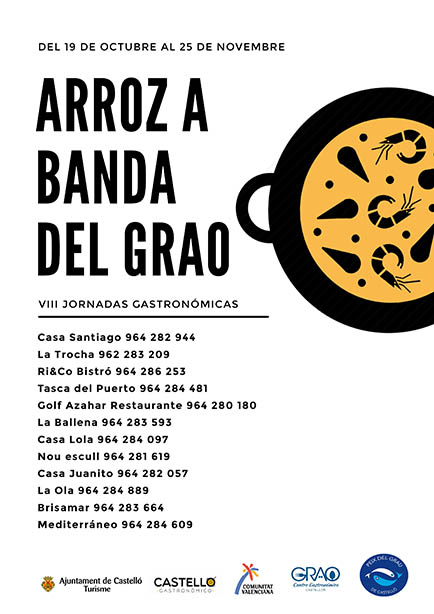 VIII Gastronomic Days Arroz a banda del Grao
Twelve restaurants of the Grao de Castellón participate in the eighth edition of the "Jornadas del Arroz a Banda". Between October 19 and November 25, these twelve establishments will have available to their customers as many menus based on this traditional dish of the Grao de Castellón.
The menus will be made up of a starter and the main dish, "arroz a banda", which will have the particular touch of each of the participating restaurants. The price of each of the menus varies between 25 and 30 euros, drink separately.
The "arroz a banda" is a typical dish of fishermen, who worked while fishing. First they made a soup with the fish they were fishing, potatoes and other ingredients. Then they separated the broth and cooked the rice with it. At the beginning they used the fish that they could not sell in the fish market, the trash that had no outlet in the market. Now, it has become one of the best known dishes of the Valencian Community and a very popular dish of the gastronomy of the Grao de Castellón.
Restaurants of the VIII Gastronomic Days Arroz a banda del Grao'

Restaurante Casa Santiago
Paseo Buenavista, 36
Grao de Castellón
(+34) 964 28 29 44
Precio: 26 Euros

Restaurante La Trocha
Calle de Trafalgar, 12
Grao de Castellón
(+34) 964 28 32 09
Precio: 25Euros

Restaurante Brisamar
Paseo Buenavista, 26
Grao de Castellón
(+34) 964 283 664
Precio: 28 Euros (mínimo 2 menús)

Restaurante Casa Juanito
Paseo Buenavista,11
Grao de Castellón
(+34) 964 282 057
Precio: 28 Euros

Restaurante Casa Lola
Paseo Buenavista,5
Grao de Castellón
(+34) 964 284 097
Precio: 28 Euros
La Tasca del Puerto
Avenida del Puerto, 13
Grao de Castellón
(+34) 964 284 481
Precio: 30 Euros

Golf Azahar Restaurant
Avenida del Golf, 1
Grao de Castellón
(+34) 964 280 180
Precio: 27 Euros

Restaurante La Ola
Calle Mar Adriático, s/n
Grao de Castellón
(+34) 964 28 48 89
Precio: 26 Euros

Restaurante La Ballena
Paseo de Buenavista, 4
Grao de Castellón
(+34) 964 283 593
Precio: 28 Euros

Restaurante Nou Escull
Calle Alcalá Galiano, e
Grao de Castellón
(+34) 964 281 619
Precio: 26 Euros

Restaurante Ri&Co Bistró
Avenida de Castalia, 46
Grao de Castellón
(+34) 964 286 253
Precio: 25 Euros

Restaurante Mediterráneo
Paseo de Buenavista, 46
Grao de Castellón
(+34) 964 28 46 09
Precio: 28 Euros