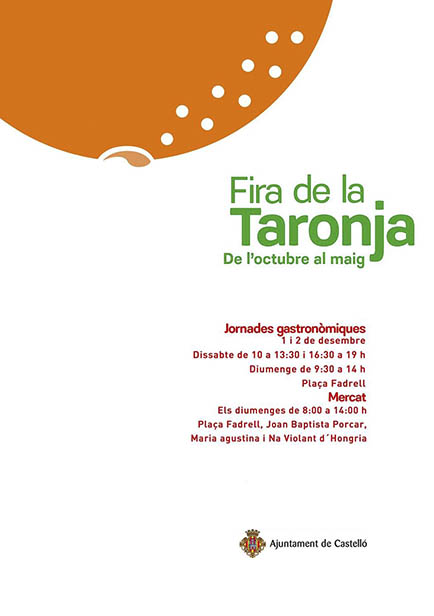 GASTRONOMIC DAYS OF THE FIRA DE LA TARONJA 2018
The Fira de la Taronja, held in several squares in the city of Castellón will be the setting for the Gastronomic Days. The purpose of this fair is to promote the consumption of citrus fruits from the province of Castellón. There will be several activities for both adults and children to make the orange of Castellón known, as well as the products made from them.
Children can enjoy activities such as a contest of orange juice squeezers, gastronomic workshops by Educachef and many other activities, all related to discover and learn about oranges.
There will also be a representation of businesses and establishments that will offer products related to the orange of Castellón, such as liqueurs, nougat, pastry products made with oranges and much more.
SCHEDULE OF THE GASTRONOMIC DAY 'FIRA DE LA TARONJA'
1st December 2018, Saturday
10.00 am Opening of the day with tasting of orange juice, courtesy of the Fira de la Taronja.
10.00 h Opening of the places of sale of gastronomic products with citrus fruits and of the children's animation workshops.
From 10.30 to 11.30 h First shift of gastronomic workshops for children with citrus by Educachef. (Registration to jornadesdelataronja@gmail.com)
11:30 am Children's orange juice squeezers Contest
11.30 am Talk about Nutrition, Mediterranean diet and properties of citrus fruits. In charge of Mery Ortiz, dietitian of Naturbalanç.
From 12.00 to 13.00 h Second shift of gastronomic workshops with citrus fruits by Educachef (Registration to jornadesdelataronja@gmail.com)
12.00 am h Showcooking of the chef Santiago Chiva, from El Pairal restaurant with tasting of the elaborations.
1:30 am Orange's gastronomic microcircuit. The following restaurants collaborate: Lipizano, La Taberna de Guille, La Marimorena, La Birrería, La Taberna Taurina, Rustic.
From 4:30 a.m. to 7:00 p.m Animation children's workshops: gastronomic themathic with citrus fruits.
2nd December 2018, Sunday
09.30 am Opening of the day with tasting of orange juice, courtesy of the Fira de la Taronja.
10.00 a.m. Opening of the stands of gastronomic products with citrus fruits and of the children's animation workshops
From 10:30 a.m. to 11.30 a.m. First shift of gastronomic workshops for children with citrus by Educachef. (Registration to jornadesdelataronja@gmail.com)
11.30 a.m. Children's workshop "La taronja i els sentits" by Paco Usó, from Supernaranjas.
From 12.00 p.m. to 1.00 p.m. Second shift of gastronomic workshops with citrus fruits by Educachef (Registration to jornadesdelataronja@gmail.com)
12.00 p.m. Showcooking of chef Rafael Gresa, of the restaurant A Taula with tasting of the elaborations.
1.30 pm Orange's gastronomic microcircuit. The following restaurants collaborate: Lipizano, La Taberna de Guille, La Marimorena, La Birrería, La Taberna Taurina, Rustic.
2.00 pm Closing session
And also, during the two days, there will be tastings and sale of products derived from orange:
NELET: 100% natural and handmade tangerine liqueur, liqueur orange, limoncello and other varieties
TURRONES AGUT.
MAGISTRATUS: the tastiest artisan jams. Sweet orange, bitter orange and other surprise combinations.
DULCE CREACIÓN: creative pastries, orange cookies, cupcakes and other creations. Pastry decoration workshop.
PANADERIA MIGUITAS Y DULCES
SUPERNARANJAS