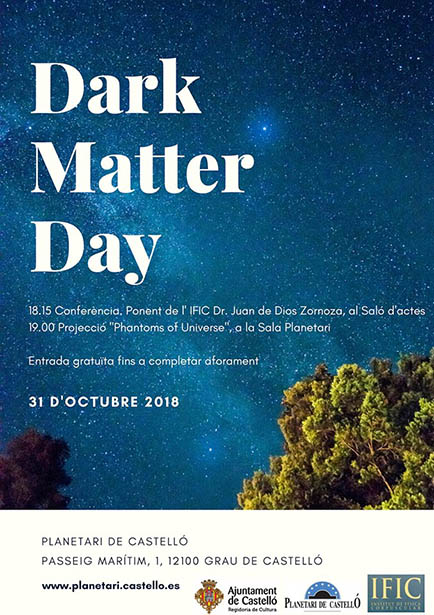 Dark Matter Day in the Planetarium
On October 31, the world celebrates the historical search for the occult, something scientists call dark matter. To celebrate the Dark Matter Day, global, regional and local events have been planned for that date by institutions and individuals that seek to involve the public in discussions about what we already know about dark matter and the many current and planned experiments that seek to solve their mysteries. . All this can be consulted in the page www.darkmatterday.com

The two activities offered at the Planetarium of Castellón want to bring attendees to this international event with information on this subject, in a pleasant and open to everyone.
The Planetarium of Castellón will participate in this celebration in collaboration with the IFIC (Institute of Corpuscular Physics) and for this the Planetarium of Castellón has planned a special program for that day, which you can consult below:
PROGRAMMING OF THE PLANETARY OF CASTELLÓN FOR OCTOBER 31
6:15 p.m.: Conference of Dr. Juan de Dios Zornoza, member of the IFIC, which will introduce attendees to the Dark Matter and the novelties in their research. It will take place in the Assembly Hall of the Planetarium, with free admission until full capacity is reached.
7:00 p.m.: Fulldome projection "FANTASMAS DEL UNIVERSO, The hunt for Dark Matter". It is a planetarium show designed to immerse the public in the search for dark matter. It is a collaboration of the Lawrence Berkeley National Laboratory, the University of Texas at Arlington, the State University of Michigan, the IFIC at the University of Valencia, as well as other institutions.

Also in this part the tickets will be free and limited to the capacity of the planetarium room.