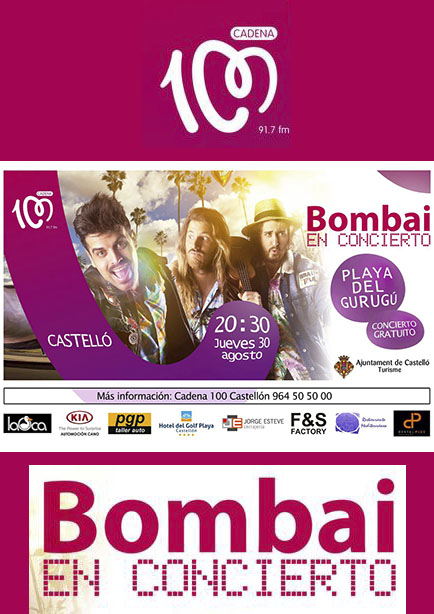 Bombai Concert on Gurugú Beach
The Valencian group Bombai will offer one of the most refreshing concerts of this summer, next August 30, starting at 8:30 p.m., on the Gurugú beach of Castellón.
The concert, free of charge, is organized by the Municipal Tourist Board and Cadena 100 Castellón and will put the finishing touch to the "Gurugú musical" cycle that has been held since the beginning of July.
The Bombai group made itself known to the general public with its single "Solo si es contigo", a fresh and positive song with a pop-rock sound and a very careful reggae touch that counted on the collaboration of the Extremaduran singer Bebe. This song has been one of the most listened to in all the music radios and it has been a Gold Record and it is the soundtrack of the Spanish movie "Señor, dame paciencia".
With the endorsement of "Only if it's with you", Bombai premiered his work "Unstoppable" at the beginning of the year, which was presented at a Club 100, a small format acoustic concert held at the Municipal Theather of Betxí.
Recently he has premiered the song "Eterno con ti" which is the theme of the Centennial of Valencia CF.
Bombai is formed by Javi (vocals), Vicente (electric guitar) and Ramón (acoustic guitar). Three friends with a lot of passion and years of music behind them who came together to compose songs with the idea of forming a group that reflects their tastes and influences, which range from pop-rock to reggae.
Cadena 100 is one of the main stations of Spanish music radio, especially from 6 to 11 in the morning with the program "Good morning, Javi y Mar".
Cadena 100 Castellón is also, according to the last General Media Study, the most listened to radio station in the province with 34,000 listeners.