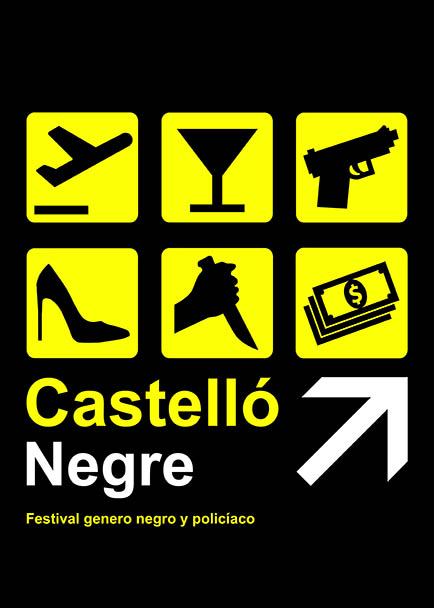 Castelló Negre 2018
One more edition, the best writers and writers of black genre meet at the Festival Castelló Negre, which in addition to the headquarters in the capital of La Plana will have offices in other towns in the province, such as Vila-real, Nules, Peñíscola or Benicàssim. Among the activities proposed for this edition, will be the presence of writers in institutes of different venues, to make young people interested in reading the novels of black genre.


This is the provisional programming of Castelló Negre in the city of Castellón.
Find out more on the Castelló Negre  website.
CSN IN CASTELLÓN:
WEDNESCDAY, MAY 2 :

12.00 pm.

Julio César Cano will talk about black genre at IES LA PLANA in CASTELLÓN.
THURSDAY, MAY 3 
9:00 am.

Talk "LA ISLA DEL TESORO", at the CEIP MANEL GARCÍA GRAU.

19.00 pm.

Creative writing workshop with Juan Madrid, in the Bohemia of CASTELLÓN.
FRIDAY, MAY 4
Round tables at the Espai cultural obert de les Aules:
18:00-18:40

"Truth, post truth and enigma" with the writers Javier Hernández and Rosario Raro. Moderator Ana R. Sanfeliu.

18:40-19:20

"Stepping hard: best selling and awards" with the writers Pere Cervantes, Javier Castillo and Benito Olmo. Moderated by David G. Panadero.

19:20-20:00

"Wars, tragedies, corruption" with the authors Juan Madrid, Víctor del Árbol and Juan Ángel Cabaleiro. Moderated by Pedro Tejada

20:00-20:30

"Latin Noir, translations and documentaries" with Andreas Apostolidis (film director), Kriton Iliopoulos (scriptwriter and translator) and Alejandro M. Gallo (writer). Screening of the trailer of LATIN NOIR. Moderated by Pedro Tejada.

20:30

Spanish wine glass
SATURDAY, MAY 5
Crimes in la Pescadería square.

11:30-12:00

Presentation of the magazine PRÓTESIS nº10 "Crímenes célebres" by David G. Panadero.

12:00-13:00 

Presentation by the authors of their latest novels: Javier Hernández, Rosario Raro, Alejandro M. Gallo, María Frisa, Pere Cervantes, Víctor del Árbol, Juan Ángel Cabaleiro and Luis Roso. Firms

13:00-14:00

Homage and interview to Juan Madrid by Alejandro M. Gallo, David G. Panadero and Pedro Tejada. Delivery of the CSN Prize for all his literary career.

22:30h.

Monologue CONDE (NADO) by Mónica Miguel in La Bohemia.
TUEDAY, MAY 8
19:30h.

Susana Fortes with her novel September can wait in the Classroom Isabel Ferrer of CASTELLÓN. Carmen Belenguer and Pedro Tejada present.
WEDNESDAY, MAY 9
11:25h.

Presentation of "Llamadme Alejandra" with Espido Freire at the IES FRANCESC RIBALTA of CASTELLÓN.
THURSDAY, MAY 10
19:30h

Presentation of the new book of the CSN Collection with Pasqual Mas, in the BOHEMIA of CASTELLÓN.