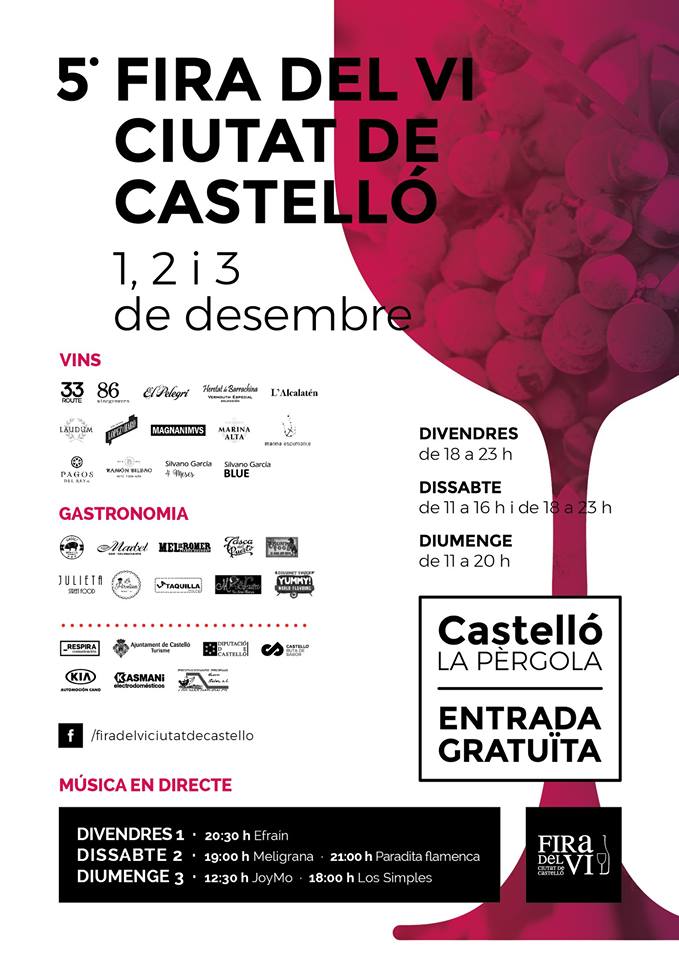 5º Feria del Vino en Castellón
The 'Fira del Vi Ciutat de Castelló' came to the city in November 2013 with a great success of participation and, since then, it has been consolidating, generating business and contributing to enjoy the great variety of wines of our province, as well as contribute to appreciate its quality and value one of the best Castellón products.
From the 5th edition, a commitment is made to share space with wines from other locations, so that the customer can appreciate the wines of our land and compare them with those of other territories, giving them the label of quality and distinction.
The wine is almost always consumed accompanied by a good appetizer or a delicious meal. For this reason, the 'Fira del Vi Ciutat de Castelló' brings together the best gastronomy. Restaurants, foodtrucks, tapas, montaditos … are distributed in exhibition stands to offer a quality product that serves as an ideal accompaniment to good wine.
The 'Fira del Vi Ciutat de Castelló' is not only a space dedicated to the consumption and sale of products, but it is also a didactic-educational space, with activities for adults and children in which you can know all the intricacies that envelop the wine. Tastings, demonstrations, talks, workshops, live musical performances … Without a doubt, a space in which to immerse yourself and feel the passion for natural products, good wine, good gastronomy in an exceptional and renewed atmosphere. And with free admission!
With the 'Fira del Vi Ciutat de Castelló', La Pérgola becomes every year the meeting point for wine and gastronomy lovers.
During the three days of the fair we also have live music:
Friday 1:
Saturday 2:

19:00H Meligrana
21:00H Paradita Flamenca

Sunday 3:

12:30H JoyMo
18:99H Los Simples