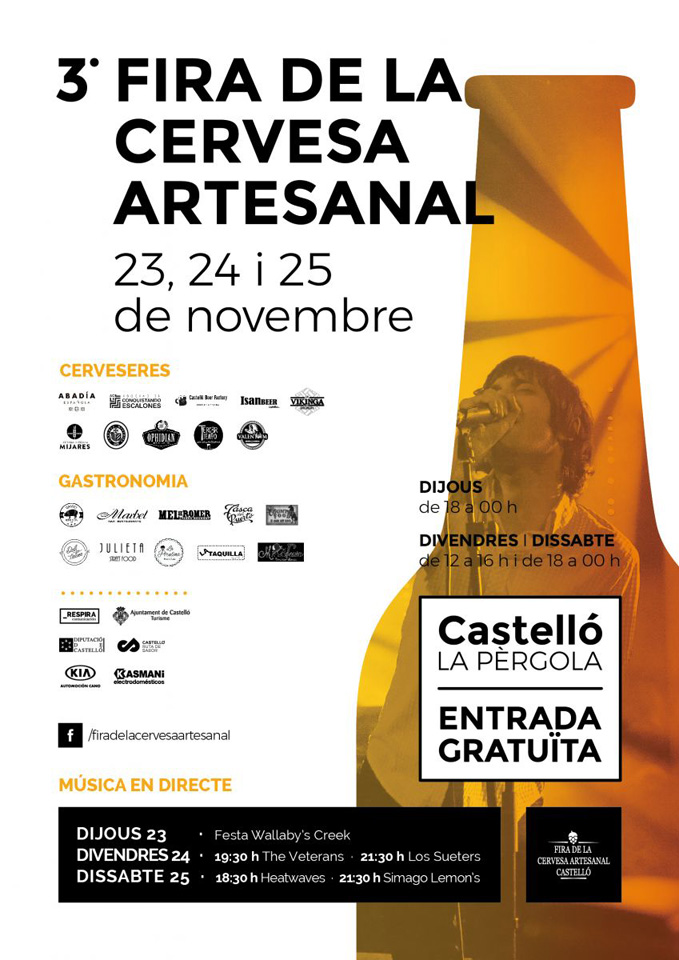 III Edition of traditional beer fair in Castellón
The Traditional Beer Fair is a free event where traditional beer, gastronomy and concerts will be the main protagonists. This Fair starts on Thursday November 23 with a university party in the La Pergola, and will continue on Friday 24 and Saturday 25.
The Beer Fair aims to promote the traditional products of our province, more specifically in the microbeer of Castellón that have managed to attract thousands of consumers interested in this drink.
Attendees can accompany the beers with a varied gastronomy: rice, hamburgers, sandwiches, "tapas", "torreznos", "tacos", tables of ham and cheese, toast, fresh products, etc.
Schedule
Thursday from 18 to 00 h.
Friday and saturday from 12 to 16 h and  18 to 00 h.
Musical concerts
Thursday 23-  Fiesta Wallaby's Creek.
Friday 24-  The Veterans at  19:30 h and
Los Sueters at 21:30 h
Saturday 25-  Heatwaves at 18:30 h and
Simago Lemon's at 21:30 h
Beer
exhibitors
Abadía
Asociación Conquistando Escalones
Castelló Beer Factory
Isanbeer
La Vikinga
Brewery
Mijares
Montmirá
Ophidian Brewing Company
Tercer Tiempo
Valentivm
Gastronomic
exhibitors
Gasset Ibércios
Rte. Marbel
Mel de Romer
Tasca del Puerto
Country Food
Deligotessen
Julieta
La Pirulina
La Taquilla
Yummy